Specification Chart :

Whole Home, Commercial and Industrial RO

As people become increasingly aware of the benefits of purified water, the demand for equipment capable of treating both municipal and well water supplies continues to grow. As a result, Whole House and Commercial Reverse Osmosis systems are becoming widely accepted. We carry a wide variety of RO systems, one of which will fit your application and your budget.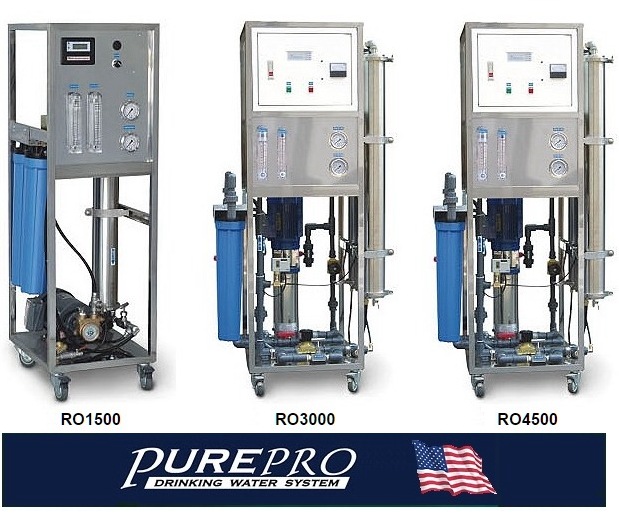 PUREPRO USA RO SPECIFICATION
Models / Specifications

RO 1500

RO 3000

RO 4500

RO 6000

RO 12000

RO 15000

RO 24000

Capacity

Gal / day

1500 GPD

3000 GPD

4500 GPD

6000 GPD

12000 G

15000G

24000G

Working Pressure

PSI

150 – 250 PSI

Pre-Filtration

2 x 20" Filter Housing ( 20" PP Cartridges 5u)

TK207

(20" PP Cartridges 5u X7)

Booster Pump

0.75KW

(1 HP)
PROCON 2507

2.2KW(2HP)
Vertical Type Multistage Booster Pump

2.5KW(2HP)
Vertical Type Multistage Booster Pump

2.8KW(4HP)
Vertical Type Multistage Booster Pump

3.2KW(4HP)
Vertical Type Multistage Booster Pump

3.5KW(5.5HP)
Vertical Type Multistage Booster Pump

Membrane

Material

T.F.C with FRP outer wrap

Size x Unit

4040 x 1

4040 x 2

4040 x 3

4040 x 4

4040 x 8

4040 x10

8040 x4

Membrane Housing

Material

304 stainless steel with caps

FRP

Size x Unit

4040 x 1

4040 x 2

4040 x 3

4040 x 4

4080 x 4

4080 x 5

8080 x 2

Flow Meters

Purewater / Wastewater

Pressure Gauges

Feed water pressure / Booster pump outlet pressure gauges

Water quality indicator

TDS meter with LCD

Electrical Controls

Micro-computer control, overload breakers, LED indicators

Frames

Parts

Stainless steel main frame

Size

480mm x 600mm x 1540mm

550mm x 800mm x 1600mm

700mm x 2500mm x 1550mm

Weight

≒80kg

≒100kg

≒120kg

≒150kg

≒300kg

≒350kg

Optional Components

Work Flow Process Control Panel
※ Feed Water Requirements:
| | | |
| --- | --- | --- |
| Feed Water Pressure > 40PSI | Feed Water Temp.:20~45℃ | Feed Water TDS < 1000PPM |
| SDI < 3 | turbidity < 1 NTU | iron < 0.1PPM |
| PH : 3~11 | oxidizer < 0 PPM | hardness < 5PPM |
Click here for specification chart RO12000~RO48000
PurePro® Industrial RO Catalogue (7mb)

PurePro Industrial RO Photos Website
Shipment photo: http://www.industrial-ro.com/photo.html

PurePro® Industrial RO - Requirement Sheet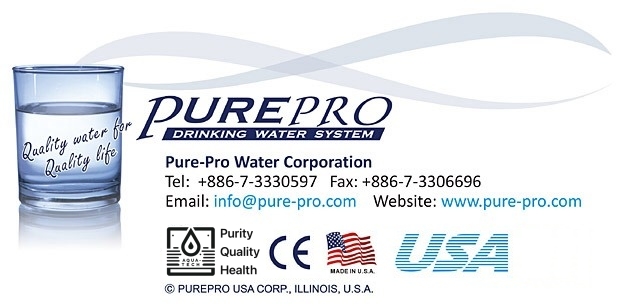 [ industrial specification ] [ industrial specification2 ] [ Desalination Unit ] [ Package RO ]