S300-(A)
Quick-change cartridge water filters


Welcome to the world of state-of-the-art technology and intelligent design solutions!
S300 Countertop & Undersink water filters
Our S300 Countertop & Undersink Filters safely and effectively remove microorganisms like Giardia and Cryptosporidium from your water protecting you and your family from parasitic illnesses caused by these contaminants.

The patented quick-change filter technology also improves the taste and overall quality of your water by reducing the amount of Lead, Chlorine, Asbestos and other impurities often found in water supplies.

Efficient and easy to use, our S300 Countertop & Undersink Water Filters provide 1500 gallons (four to six months worth) of quality water and connecting directly to your tap, this water filtration product is convenient and practical. This unit will purify up to 1500 gallons of water by removing lead and other heavy metals as well as chlorine, bad tastes and odors.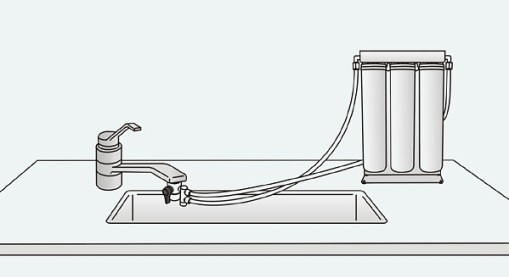 ---
The newly designed S300 is user friendly with design simplicity in mind. It requires no tools for filter changes. Use twist and quick-change cartridge design makes filter changes fast, clean and easy.
Quick-change cartridges (No tools required!)

Replacing the filters on this system is one of the easiest to do. Quick-Change Filter Cartridges make cartridge replacement fast, clean & easy, without contact with used filter material . No Mess, No Fuss with these filters just remove the old ones and install the new filters.
---

Features:
Complete 3 stage water filter system.

Feed water connector & deliver valve

Completely Assembled & Water leaking testing

100% Factory Tested and Sterilized Ready for Installation.

European design golden type faucet. (optional )
---
S300 - Quick-change cartridges
---
---
S-Series RO system:
All S-Series are using quick-change cartridges. From S300 ~S800, all of them are using quick-change cartridge filter. Quick-change cartridge design makes filter changes fast, clean and easy.