PurePro® Luxury RO Systems:
[ LUX-105 ] [ LUX-106M ] [ LUX-106R ] [ LUX-106A ] [ LUX-106UV ]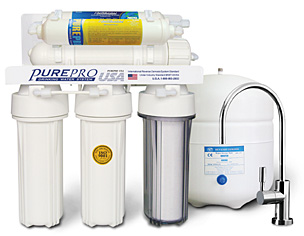 LUX-106M
New RO with Mineral Filter
The mineralized water after the mineralized filter has perfectly balanced proportions of minerals necessary for healthy development of the human body.
Advanced technologies
This revolutionary new PurePro 6 stage system uses Reverse Osmosis, Mineral Filter and Carbon Filtration to put refreshing, clean water at your fingertips. No other system available anywhere can give you all three kinds of purification in a system that is so simple.
Mineral Filter
This filter improves the qualities of clean water by adding necessary for proper human development and health minerals, such as Calcium, Magnesium, Sodium, Potassium and others readily found in many natural mineral waters. Mainly installed with RO systems to complement their absolute filtration qualities
*Cations in filtered water:
。Ca2+: 34mg/l
。Mg2+: 12mg/l
。Na+: 22mg/l
。K+: 8.5mg/l
*Anions in filtered water:
。CO32-: 10mg/l
。SO42-: 0.3mg/l
。Cl-: 0.8mg/l F-: 0.06mg/l
For more information about mineral filter, please click here. (PurePro® USA Mineral Filter)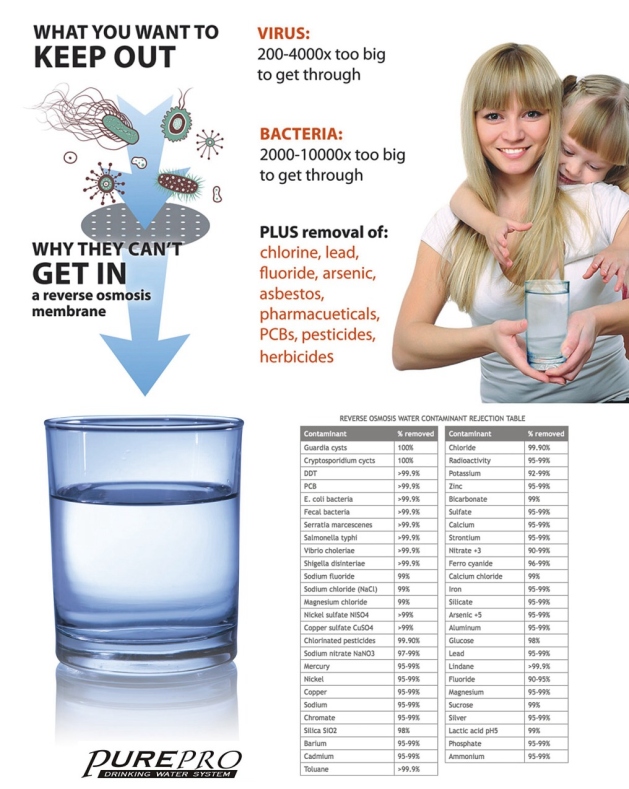 Supreme Quality, Luxury RO System
PurePro® Luxury RO system is a modern kitchen appliance that has been carefully designed with health consciousness, efficiency, high performance and convenience in mind. PurePro® Luxury RO system uses 100GPD membrane which is powerful, fast and excellent efficiency.
100GPD membrane increase the daily production capacity and the speed of RO water production. This allows for better assurance that there is adequate water available when desired, even during heavy use times of the day. PurePro® Luxury RO with its supreme quality ensures a great water flow rate with absolutely the least wasting of water.

Euro-Luxury RO faucet
PurePro® Luxury RO system includes new best Euro-Luxury faucet which is the most beautiful, most elegant design in the world. This faucet can make an important aesthetic statement and can be an essential part of the style of your modern kitchen. (Lead free, NSF certificated) Product Catalog


Features:
100GPD membrane. (Made in USA)
3.2 Gallons NSF Standards Water Storage Tank.
FDA Approved Polypropylene Made Flat Cap Housing (double o'ring).
Automatic Shut-off Valve, Mini Flow Restrictor, Stainless Steel Check Valve.
New Euro-Luxury faucet - supreme quality with elegant design.
Feed water connector.
Drain Saddle Valve.
Four Color Coded 1/4 inch Tubing for System Connection
Completely Assembled
PurePro label with USA Flag
100% Factory Tested and Sterilized Ready for Installation.
Installation Instruction.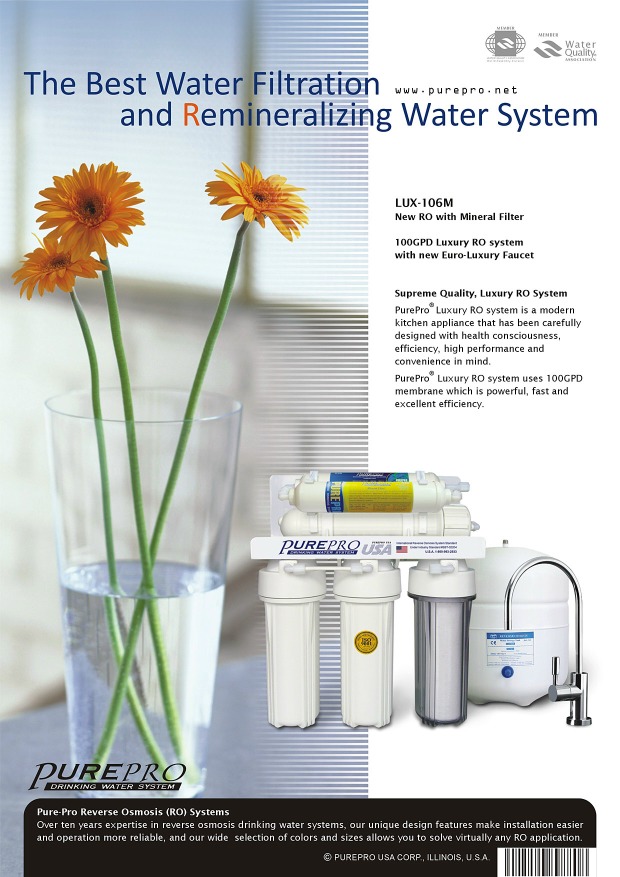 LUX-106M CARTRIDGE FILTERS
(Stage 1) 5 Micron Sediment Filter :
With only five micron rating. It is effective in removing dirt, rust and sand particles.
(Stage 2) Carbon Block Filter:
It takes out 99% of the chlorine and organic chemicals. It provides reduction of taste, odor, and color.
(Stage 3) 1 Micron Sediment Filter :
With only 1 micron rating, provides effective filtration to protect your membrane. It provides for improved membrane performance up to 95% of TDS rejection.
(Stage 4) Reverse Osmosis Membrane:
A thin film composite (TFC) high quality membrane that processes 100 gallons per day. It remove the following hard water contaminants that may be present in your water: lead, cooper, barium, chromium, mercury, sodium, cadmium, fluoride, nitrite, nitrate, and selenium.
(Stage 5) Post Carbon filter:
This carbon post filter removes objectionable tastes and odors to enhance the quality of your drinking water. We are using NSF approved post carbon to guarantee the taste of water.
(Stage 6) Mineral Filter:
This filter improves the qualities of clean water by adding necessary for proper human development and health minerals, such as Calcium, Magnesium, Sodium, Potassium and others readily found in many natural mineral waters.

LUX-106M ( Beautiful and Expressive Packaging Designs )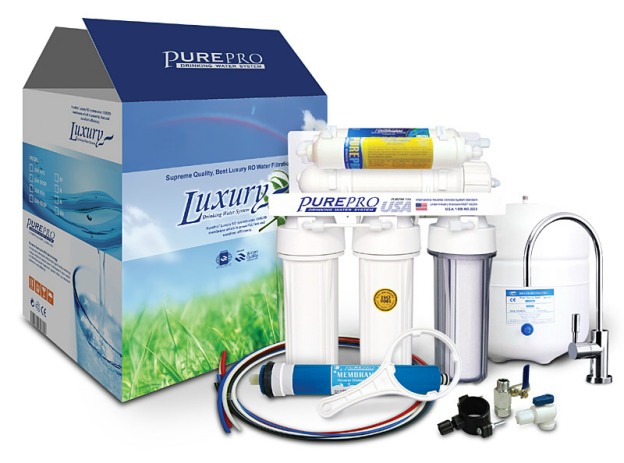 Specifications:
Membrane: 100 GPD / 378 LPD
Operation pressure: 50 -100 psi
Dimensions: (cm) 37 (L) x 45(H) x 20 (W) - system
(cm) 28 (L) x 28(W) x 35 (H)- tank
Weight: 8 kg - system
4 kg - tank

Model Number
LUX-106M : LUX-106M RO system
LUX-106M-P : LUX-106M with booster pump

Why is reverse osmosis better?
Reverse Osmosis (RO) drinking water systems include mechanical filtration to remove particles, carbon absorption and absorption to remove chloring, taste, odor and chemical contaminants, as well as membrane separation down to 0.0001 microns. RO membranes remove dissolved solids at the ionic level. No other purification system can provide better removal.

RO provides the best water quality for you and your family



Product Catalog:
Download Product Catalog
Beautiful Color Boxes
Download User Manuals
Luxury RO catalogs demonstration
★ Why is Reverse Osmosis Better ?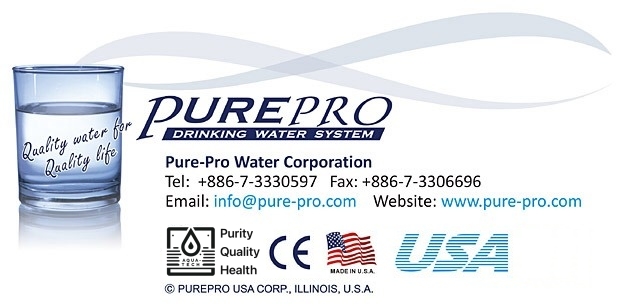 PurePro® Luxury RO Systems:
[ LUX-105 ] [ LUX-106M ] [ LUX-106R ] [ LUX-106A ] [ LUX-106UV ]